The Easiest Way to
Book a
Car Online!


First time visitors
First time visitors to the island of Gozo :
Get the best out of Gozo on your first visit...
Welcome to the island of tranquillity! Here you will find an island rich in history, culture and heritage and home to some of the oldest structures in the world.
Here are some tips for you on your first visit:
Book a direct airport transfer for your arrival and departure. This will rest your mind that you will arrive at your final destination on time and with no difficulties.
The driver will take care of all the luggages and provide you with all information you may need on your visit
An alternative way to travel to Gozo is by having a car delivered at the airport. This is not recommended by us as the maltese road system may be complicated for a first time visitor and the road from the airport can be a tiring one. Moreover, the vehicle ferry ticket is more expensive for tourists and you may experience problems in fitting all luggages in the car.
Have a car delivered to your accomodation in Gozo. Car hire is a must on Gozo and many visitors who don`t prebook a car end up booking one during their stay at higher rates. Booking early saves money. The gozitan road system is much easier to travel around.
Book a boat trip around Gozo and Comino. If weather permits, this will give you a completely different view of the islands.
If you are visiting in Summer experience one of the popular local feasts on the island which occur every weekend.
If travelling in winter, Carnival in the village of Nadur is very popular and in Christmas a life-size crib is built every year in the village of Ghajnsielem
The best time to visit the island is usually Spring and autumn. Weather is still nice and sunny while Gozo is most green during this time of year.
If you are a first time visitor, we offer a package to help you make the most of your holiday:
Arrival from the airport direct to your accomodation

Gozo Tour on your 1st or 2nd day on the island (to help you get acquainted with the island)

Car hire starting from the following day

Direct departure from your accomodation to the Airport
Contact Us on info@mayjocarhire.com for this offer and will you will receive a discount code + reduced rates on the tour and direct transfers!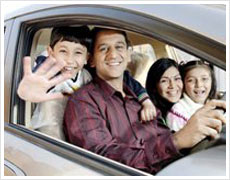 Our Links
Our Tours
Contacts
Victoria Head Office
Fortunato Mizzi Street
Victoria, Gozo,
VCT 2573, Malta.