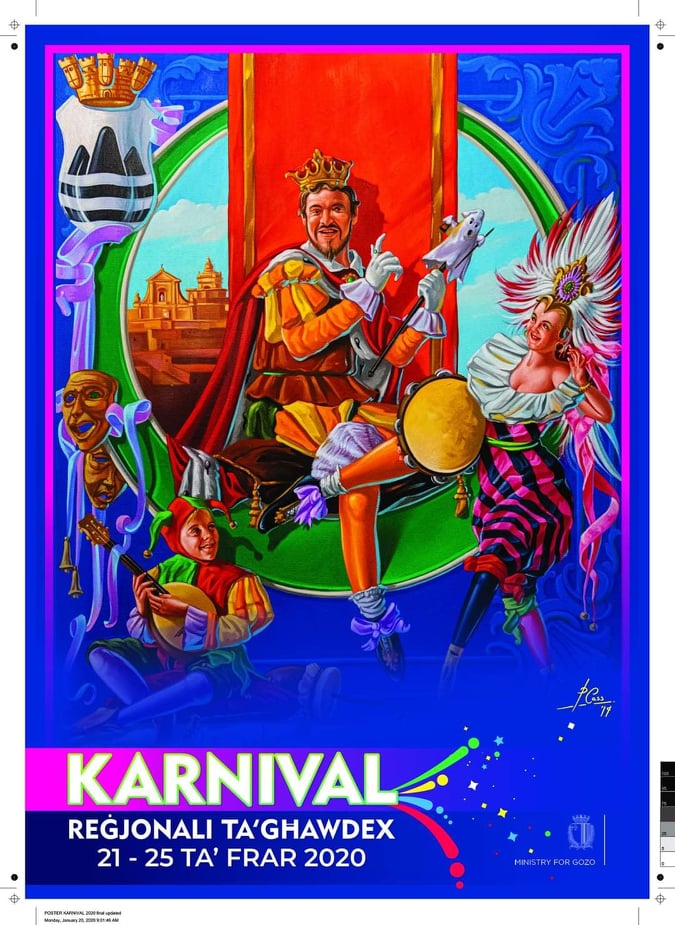 The joyful carnival season is approaching in Gozo and Malta. Carnival festivities are mainly held in the week preceding Ash Wednesday, which in 2020 falls on February 26th. During Carnival, everyone is allowed to wear a mask, a costume, be merry and silly and outrageous before the somber season of Lent.
Carnival is celebrated with colorful floats, costumed parades, parties, revelry and dancing throughout various localities around the islands. The most famous one is held in Nadur, Gozo. Nadur Carnival attracts thousands of visitors, from Gozo, Malta and abroad.
An organized carnival in the last weekend before Lent starts the festivities, and is then followed by the spontaneous people's carnival. The spontaneity and outrageous costumes of the people's carnival made it quite unique and one of the best carnivals in Europe. Many Maltese people cross over to Gozo just to experience it.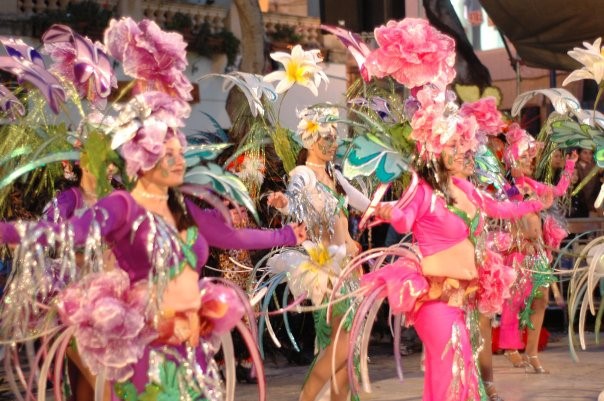 The organized carnival in Nadur starts on Sunday, 16th February, from 12:00 pm in St. Peter & St. Paul square. It will have dances, costumes, floats, and an entertainment programme to suit all ages.
The spontaneous carnival starts on Friday 21st February and lasts through to Tuesday 25th February. Carnival in Nadur is celebrated mainly in St. Peter & St.Paul's square and in December 13th street. The bars will be packed and people will party well into the night.
Gozo will host numerous Carnival parties. For updated list of events and parties, check the Facebook page of Gozo Carnival Clubbing Weekender.
La Grotta will host Panthems Carnival on February 20th, and Strictly RNB on February 21st starting at 22:00, see event details on Facebook. The closing party of the Gozo Carnival Clubbing Weekender is the Villa Takeover at Villa Fiorita on February 22nd.
Several carnival dancing competitions are also held in the capital city of Victoria from the 21st to the 25th February 2020, mainly in the it-Tokk square area and across main streets. Events times in Victoria are as follows:
Friday 21st February – 06.00pm. A parade will take place in Republic Street.
Saturday 22nd February – 09.30 am. Children's Carnival. A show by various dance companies and school dance companies will take place in Independence square.
Saturday 22nd February – 06.00pm. Another parade and dance show will take place in Independence square.
Sunday 23rd February – 02.30 pm. A parade starting from Republic street followed by a dance show in Independence square.
Monday 24th February – 06.00pm. A dance show in Independence square.
Tuesday 25th February – 06.00 pm. Grand Final with a dance variety show in Independence square.
Transportation to Carnival events: Contact Mayjo taxi services on (00356) 99890600 or email: info@mayjocarhire.com