Updated February 2021
Traditionally, Carnival festivities are mainly held in the week preceding Ash Wednesday, which in 2021 falls on February 17th. During Carnival, everyone is allowed to wear a mask, a costume, be merry, silly and outrageous before the somber season of Lent.
Even though this year all Carnival celebrations have been canceled in most places around the globe, the pre-Lenten season is still the time of Carnival – whether we celebrate it as something more internal, or as a memory of all the festivities that we experienced.
In many Catholic countries, people have decorated their homes, or put outside the traditional floats for all to see. Also in Malta, Carnival 2021 is celebrated with street installations and exhibitions that honor the centuries-old tradition.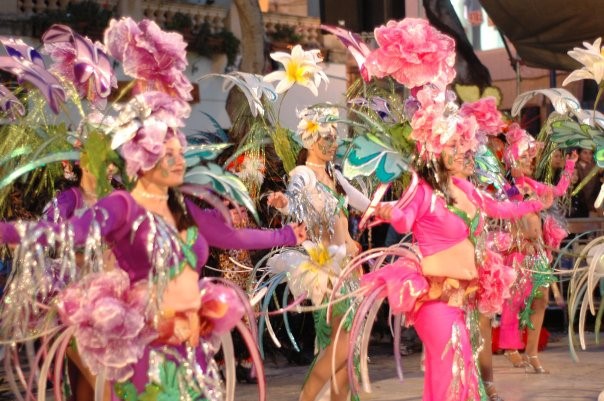 In Gozo, the most famous and the best Carnival is celebrated in Nadur. It typically attracts thousands of visitors from both Malta and abroad. It consists of both the official organized carnival with colorful floats, costumed parades, parties, revelry and dancing – and the spontaneous people's carnival, where the villagers take to the streets in grotesque and sarcastic costumes.
While having become less of a spontaneous culturally unique event and more of a street party over the years, Nadur carnival is still a very peculiar side of Gozitan carnival celebrations. While no festivities will be held in 2021, this part of the culture of the island will be revived once the health situation improves.
Below is the list of some of the Carnival events held in 2021 in Malta:
COSTUME EXHIBITION
FEB 6 – MAR 7
Location: Atrium, Spazju Kreattiv, St James Cavallier, Valletta
Time: Tue – Fri 9:00am – 9:00pm, Sun 10:00am – 9:00pm
Fee: Free
A competitive exhibition of 24 carnival costumes which were specifically designed for Carnival 2021.
(Temperature will be taken at the door and masks must be worn at all times)
ARTISTIC INSTALLATIONS
FEB 12 – 16
Locations: Freedom Square (Near Parliament), St George's Square, Great Siege Square (next to Law Courts)
Competitive artistic installations that were designed and produced by Carnival participants. Due to the pandemic, these static installations have replaced the traditional Carnival floats for this year's extraordinary edition.
STREET INSTALLATIONS
FEB 12 – 16
Locations: Ħamrun, Qormi, Swieqi, Marsa, Mater Dei Hospital, Paola
Street installations designed by illustration artists and produced by Carnival participants.