Gozo has a wide variety of excellent accommodation. Hotels, guesthouses, self-catering apartments, spacious traditional farmhouses and townhouses, B&B's, rooms in shared apartments or homes – there is something to suit every taste and budget. The style ranges from basic to exclusive and luxurious, traditional to modern, classical to eclectic, with all the countless variations. It is next to impossible to give even a brief overview of all accommodation options on the island.
In this selection, we will present some of the many traditional farmhouses that are available for rent on Gozo. Farmhouses tend to be more isolated, offer the freedom of a self-catering accommodation, and are ideal for those who prefer to retreat into peace and quiet on their holidays.
Farmhouses for the Colder Months
Gozo is a year-round destination. In this post, we chose to focus on the farmhouses that are equipped for winter and off-season months.
Despite popular misconception, winters in the Maltese islands can be quite unpleasant. Humidity, coupled with frequent strong winds, often makes the stone houses feel several degrees colder than the actual temperature outdoors. The Maltese stone is porous and absorbs moisture easily. This makes some houses and apartments unpleasantly humid and bone-chillingly cold in winter.
This is why, when picking Gozo for a winter or off-season stay, it is important to pick properties with adequate heating and ventilation. The properties listed below all feature wood-burning stoves or fireplaces as well as air-conditioning, and often also underfloor heating, indoor jacuzzis, and in two unique cases, even an indoor pool.
As all of the farmhouses we listed here are quite large, and finished to a very high standard, they also come with a fairly steep price tag. They are therefore ideally suited for a group of friends, a family gathering, or a retreat.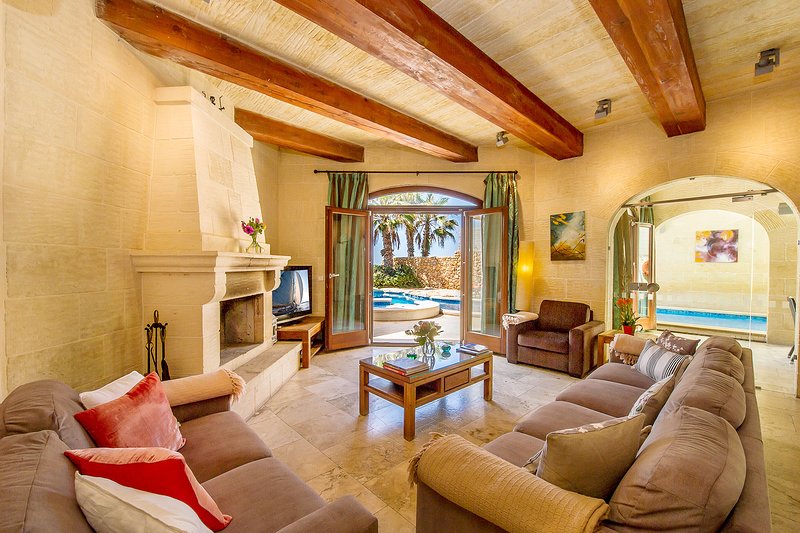 Boasting a generous 12.5 meter long outdoor pool and an indoor heated pool with jacuzzi, this one of a kind farmhouse hosts a maximum of 8 people in 4 bedrooms. With a fireplace and underfloor heating throughout, this house is a perfect winter escape – but is of course just as gorgeous in the height of summer.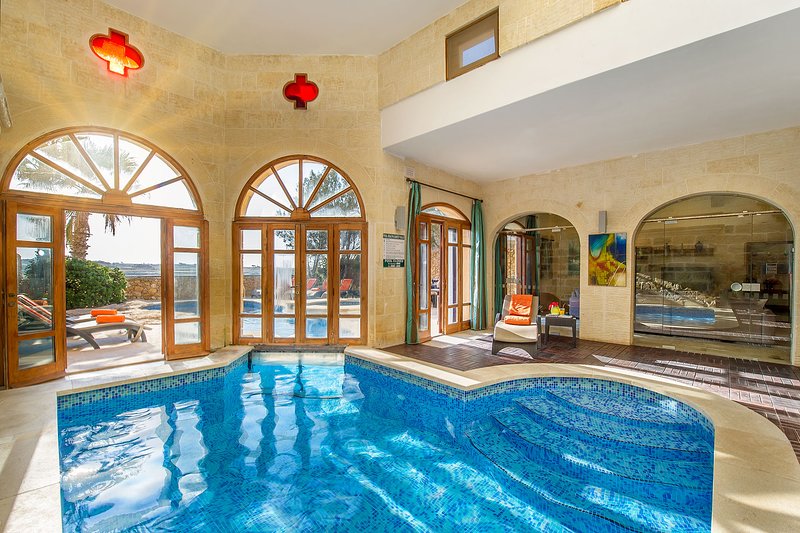 With 4 double bedrooms, a fireplace and underfloor heating, this stunning property has both indoor and outdoor pools. The indoor pool is heated through the colder months of November to May. The outdoor pool (10.5 x 3 meters) also has a jacuzzi and a nice relaxation area. The villa even has a fitness room and a dry sauna, making it into more of a personal spa retreat than merely a farmhouse.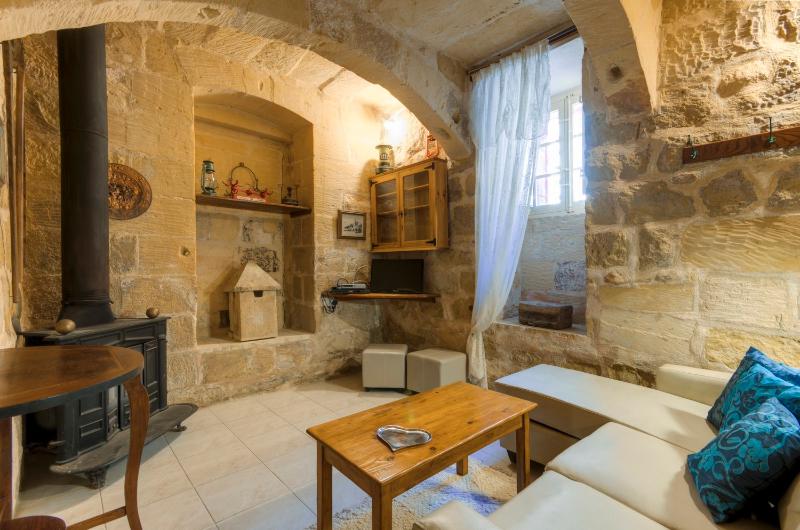 In the quiet village of Santa Lucia, Tan Nanna is 5-bedroom farmhouse. One of the bedrooms is a quad room with 4 single beds. The house can can therefore host up to 12 people, and is an ideal retreat spot with a wood-burning stove and jacuzzi. You will definitely need a hired car to stay in this area.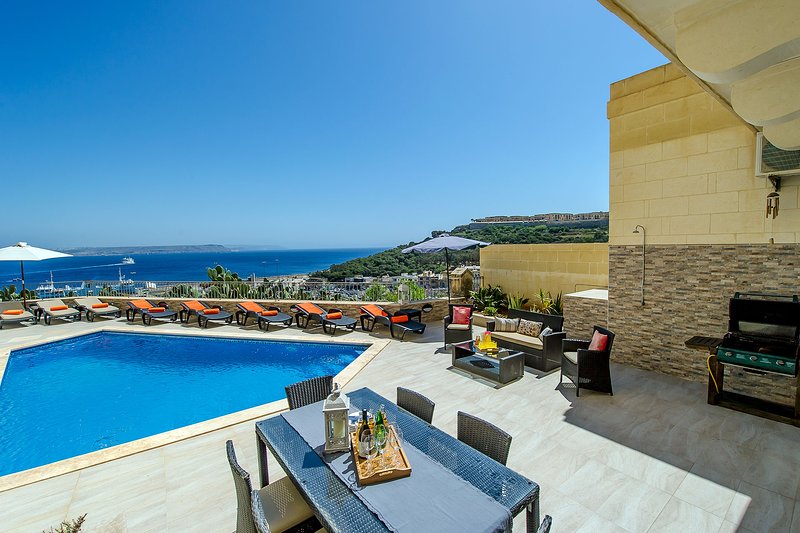 Situated close to Mgarr harbour, this house boasts views over Gozo channel and the island of Comino. It is an absolutely stunning property with a wood burning oven, pool and a large panoramic terrace, bedrooms with large balconies and an ensuite bedroom with a terrace. The property is walking distance from the harbour, with all its bars and restaurants, and obviously ferries to Malta and Comino.
Winter Ready Retreats for Couples
What if you wish to come as a couple, or even by yourself, and spend a few days or weeks in a traditional farmhouse? Gozo does have several smaller houses of character. These, normally two-bedroom, houses would rarely have an own swimming pool, unless they are part of a cluster of several farmhouses centered around a common area. The most unique and atmospheric ones are often rented out directly by owners, and are as eclectic and eccentric as Gozo itself.
If one were to look for a farmhouse for a couple, our personal favorite is Dar Ghax-Xemx in Victoria. This 17th century house is hidden in a quiet narrow alley in the pedestrian part of the capital. Warm and welcoming, quiet and secluded, while at the same time walking distance to all amenities, the house is comfortable both in the summer and in winter.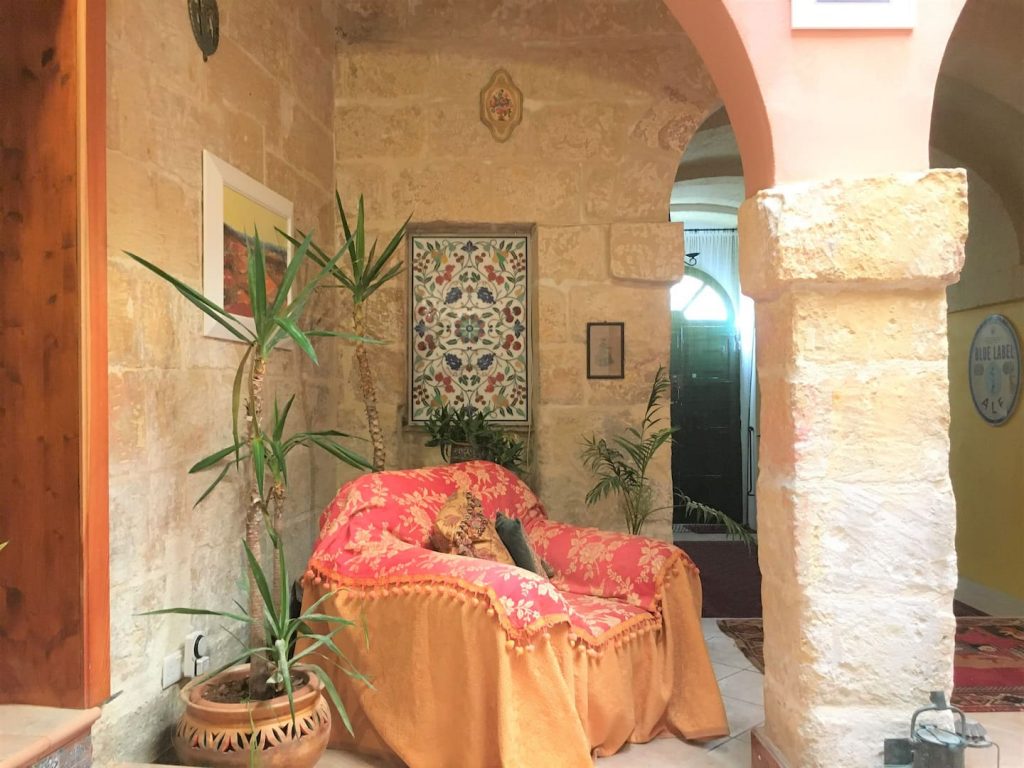 The eclectic Tal-Bizzilla, also in Victoria, blends oriental influences with uniquely Gozitan features. Fully equipped with AC, the house is centered around the inner courtyard living space, and we recommend it especially for the months of April to December.
The Old Wine Inn in Qala with an indoor wood-burning stove is a beautifully restored family house of character, which once used to be a winery and a bar. We recommend it for the rich atmosphere and quiet location walking distance to all amenities. It is a year-round place, which also has a jacuzzi in the garden.