As the scorching summer sun becomes softer, and the first rains drench Gozo somewhere around mid-September, autumn brings with it a welcome change in weather. The sea around the island is still warm well into November (with average water temperatures ranging from +26°C in September to +21°C in November). As the beaches gradually empty of tourists come September, one can enjoy the warm seas and pleasant days, benefitting from a more relaxed pace and lower accommodation rates.
After the autumn rains, the parched summer landscape gradually turns green. Deeper into autumn, Gozo is typically more vibrant and lush, with rolling green hills and blossoming plants. Autumn is a great time for walks and hikes across Gozo's varied landscape, enjoying the beautiful natural surroundings, stopping for a refreshing dip in the sea.
As the weather starts cooling off considerably from around mid-October, the days get shorter, and the swimming and diving season comes to a close, Gozo becomes host to many autumn festivals and events. In October, the two rivaling opera theatres on the island, Astra and Aurora, typically stage one performance each. In the past years, performances included Aida, Turandot, La Traviata, La Boheme and Evita. Much passion and dedication goes into these shows, which often feature internationally acclaimed singers.
October on Gozo is the time for Festival Mediterranea, a month-long festival of art, music, folklore, culture and archeology. It features concerts by local bands and orchestras, street theater, lectures, recitals, and guided visits to historical landmarks. This year (2023) the Aurora Theatre will be staging Puccini's Madame Butterfly while Verdi's Rigoletto will take place at Astra Theatre.
Kite and Wind Festival takes place in the second half of October (14th and 15th October 2023) in the vicinity of San Dimitri chapel in Gharb. It is a great event for families with children who can watch the aerial displays and even try the kite-flying for themselves. The festival, which attracts kite-makers from all over the world, including Japan, India, Malaysia, Italy and Russia, also features kite-making workshops. It ends with a band procession, bonfires and fireworks.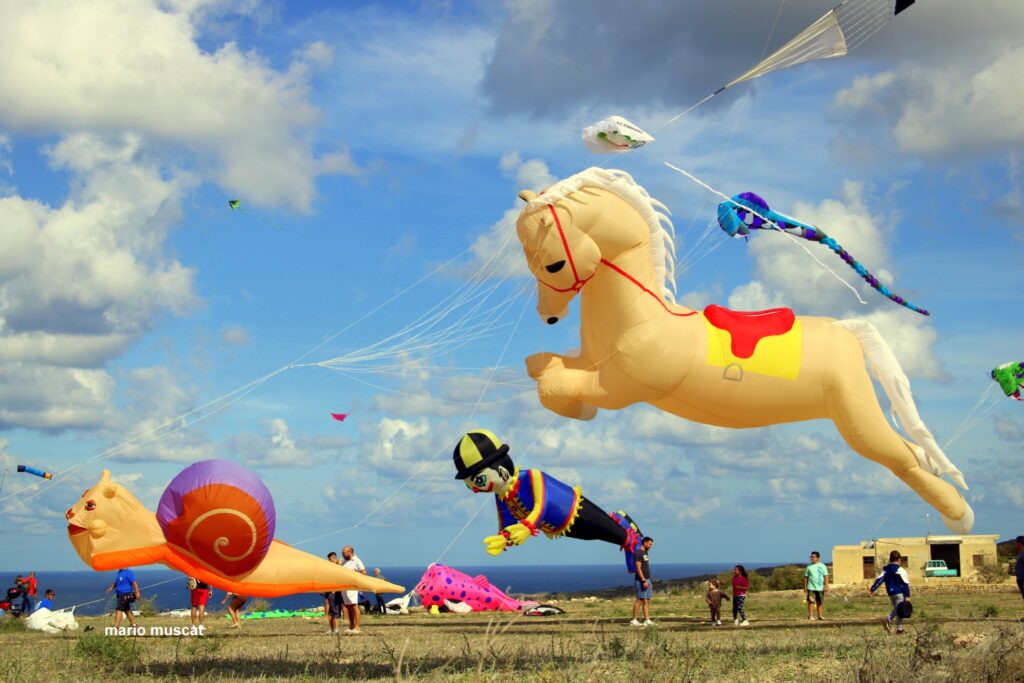 The community of Santa Lucija holds a night of torches, Fjakkolata, commemorating the last apparition of Our Lady of Fatima on October 8th 2023. The tradition in Santa Lucija village started before the time of electricity. The locals would put out street lamps and torches as the only way of illuminating the streets for a religious procession. The tradition remained until this day, with a studding display of thousands of torches, street food and traditional music.
The Mixegħla tal-Qaddisin is normally held in October, where thousands of candles will light up in squares and outside parish churches across Gozo. The 3rd edition of the Sweet and Tooth Festival will be taking place in Villa Rundle Gardens, Victoria on Sunday, November 5th.. As the name suggests, the garden will turn into a candy land with sweets and dessert stalls plus entertainment for all children.
Visiting Gozo in autumn, one can enjoy long country walks or hikes, a night out listening to a live band in one of the many pubs, attend concerts, exhibitions or performances, have a relaxing day in a spa or by the beach – or a combination of all of these.